India Mahdavi's Home Decor Tips and Tricks
"My work is about bringing joy and color into people's lives." That's how renowned Parisian interior designer India Mahdavi describes her mission as a decorator and architect. Le Colibry recently had the opportunity to speak with Mahdavi, who possesses a seemingly instinctual feel for color and how to beautify a space. Here are some of India Mahdavi's home decor tips on how to take your decorating to the next level.
India Mahdavi's Home Decor Tips — Ground Rules for Interior Design, As Found in Her Book, Home Chic
Mix and match, like you do with your wardrobe: cross vintage and contemporary furniture, cheap pieces and expensive ones, floral and geometric motifs, bright and neutral colors, cold and warm elements. Aim for a pleasant balance so the effect isn't tacky.
Balance feminine and masculine influences: to make a space more feminine, use round shapes, carpets, curtains, and textiles; to make it more masculine, use a sleek, clean design, angular shapes and structural arrangements.
Home decor pro tip: avoid 50/50 combinations; a room should leave a dominant visual impression.
Use organic shapes: an attractive form is more important than high-quality materials.
Play around with color for chairs and sofas; use neutrals for tables and bookshelves, etc.
Sell it, move it around, replace it: changing up your furniture gives everything a fresh new look. If you're bored with something or keeping it just because it belonged to your great-aunt, throw it out, give it away or sell it. "Nostalgia isn't always stylish."
Accents, accents, accents: a few cushions, a striking vase, or a new side table, mirror, photo or piece of art can really brighten up a room. Each object should have real visual presence.
Practical Ways to Make Your "Home Sweet Home" Even Sweeter
The golden rule: every room should feel comfortable, lived-in, and full of life (with hints of disorder, but professionally arranged)…and stylish, obviously.
Home decor pro tip: if a problem jumps out at you, place a strong accessory in the room to draw attention elsewhere.
White or colored walls?
"All colors and tastes are equal, but some colors and tastes are more equal than others."
Home decor pro tip:  use primarily neutral tones and save the color for small spaces. If you do want color in a larger room, use it on only one wall (preferably the wall perpendicular to the windows).
How do I arrange my furniture?
Some things are obvious: the sofa should be close to the fireplace and have a good view, for example. Everything has a place. Move your furniture around until it clicks.
Home decor pro tip: to see if an arrangement works, take a photo of it. You'll be able to spot tiny defects and interesting designs that you couldn't see with the naked eye.
How high should I hang my artwork?
Home decor pro tip: maximum 8-12 inches from the top of your furniture (i.e., the table or the sofa); if you hang it any higher you'll create a weird floating effect.
Handy trick: if you make too many holes while hanging your pictures, fill them in with Polyfilla (a type of spackle), using a spatula. For colored walls, paint over the dried result with your kids' watercolor set.
What about mirrors?
Designer's opinion: resting a tall mirror on the floor is a great way to multiply the amount of light in a room. It can work in any space, but be careful not to repeat the same trick too often.
All about lamps
Use different kinds of lighting (suspended lamps, floor lamps), and make sure light sources are well-distributed within the room.  The ideal is to have seven sources of light in a 300 sq ft. room, five in a 200 sq ft. room, and so on.
The lowdown on curtains
Ideal width: the curtains should be one and a half times as wide as the curtain rod. Any wider and you're guaranteed to have a froufrou, over-decorated look.
Ideal length: barely brushing the floor.
The curtain rod: choose a simple rod made of epoxy-coated metal. It should exceed the window frame by at least 15 inches on either side.
Color: holding the sample strip vertically in front of the window, find the color that's two shades lighter than the one you want to end up with, to allow for backlighting.
Need A Guidebook? India Mahdavi's Dos and Don'ts of Home Decor
Don't make a wrong entrance
People often neglect their entryway, to their peril: it should invite others (and yourself!) into your home.
Do: pull the focus away from the door.  You can use a whimsical touch–an armchair in neutral tones, even if no one ever sits in it, a console table with a mirror and bouquet, or a side table with an arty wall light, etc.
Don't: opt for a giant chandelier.
Your living room is not a showroom
It should be the warmest room in your house.
You should feel just as happy entertaining guests there as you do browsing on your iPad alone.
Home decor pro tip: a large sofa makes small living rooms feel bigger; several smaller sofas warm up larger rooms.
Do: arrange two sofas facing each other if space allows, but not a matching set. A carpet will define and soften a room—it's a piece of furniture in its own right. A bright accessory, a few handsome cushions or a sofa throw will make your room more interesting. The must-have item: a "bishop table," a piece of furniture that eludes description (somewhere between a stool and a side table).
Don't: try for a symmetrical look with paired lamps or side tables. Also, don't put your television in the middle of the living room bookcase—it's not a sacred object… (one of India Mahdavi's home decor tips to live by, if you ask us!)
Let your dining room breathe
Do: give it another function as an office or library; place the table off to the side to give the room an unconventional look; perk up your table with a bouquet of flowers, pretty books in piles of various heights, or a salad bowl with whatever fruits are in season.
Don't: get those ceiling lights that make your guests look ten years older.
Design tip: feel free to mix and match your tableware for place settings.
The bedroom: your own little haven for reading, lounging, daydreaming…
Do: give the bed pride of place. A pretty headboard, white sheets and a colored throw will go a long way. The bedroom is also the best place for family photos. An armchair is OK, but not a bench, basket or valet. It shouldn't feel like a hotel.
Don't: install a ceiling light over the bed.
A hedonist in the kitchen
The kitchen is often the center of the home; we spend more time there than we do in the dining room!
Do: kitchen utensils in pretty jars, a beautiful fruit platter, a jar of aromatic herbs, a photo, a pretty table. You can pair stylish suspended lighting with cast lighting.
Don't: PVC trash bins—they're ugly. The container should be admirable, and so should your recycling system.
The luxury bathroom: a place to relax and refresh your senses
Do: for the perfect lighting, pair eye-level lamps on either the front or side walls with a ceiling light. A touch of color will lift your mood; yellow, pink and turquoise are good, but avoid green (too sickly). Tissues and Q-tips should go in pretty boxes, obviously.
Home decor pro tip: the best location for your dressing table is in between the bathroom and the bedroom.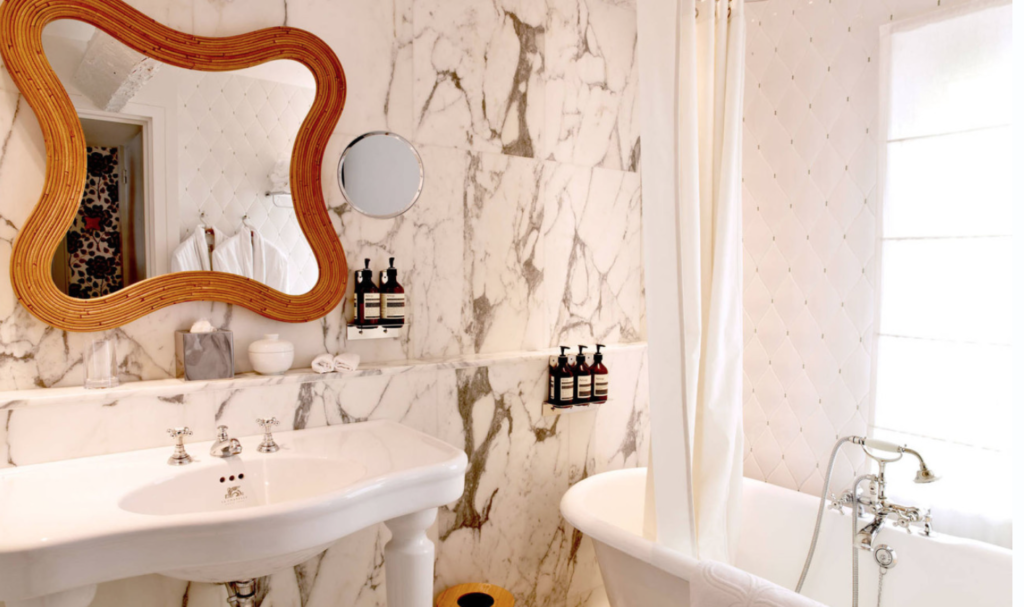 Don't forget the water closet!
Don't: use pink, blue or patterned toilet paper. On this point India Mahdavi will brook no argument: "Toilet paper should be white, period." Don't leave cleaning products in view; store them in a special closet or cupboard.
Do: add air-freshening spray, some easy-read books, a pile of chic magazines, and a wicker basket to hold replacement toilet paper rolls.
You can find India Mahdavi's home decor tips and recommendations in her book Home Chic. Get it on Amazon
India Mahdavi's showroom: 3 Rue las Cases – 75007 Paris
Phone: +33 1 45 55 67 67 – 
More about India Mahdavi: www.india-mahdavi.com
Photo credit ©: India Mahdavi, Studio 3D