Terrace and Patio Eating in Geneva Great Views and Even Better Food
It's hard to resist the temptation when a patio is calling your name. Whether you're looking for a new lunch or dinner spot that's right in town, on the water, out in the countryside, or one that has a great view on top of its great food, there's a patio or terrace for every occasion in Geneva. Le Colibry picked out a few of her favorites, so now it's up to you to try them out and decide which is your favorite!
Peaceful urban terraces
Most Historic: Le Café Papon
The Café Papon patio spreads out onto the promenade de la Treille, the oldest in the city, and overlooks Parc des Bastions. A very charming area shaded by chestnut trees.
After your meal, make the short walk over to the longest wooden bench in the world for a rest and for beautiful panoramic views of the park and other city monuments.
Cuisine: fresh, summery dishes (like sweet melon and crunchy fennel tartare with Iberian cured ham, assorted tomato carpaccio sprinkled with aged parmesan, arugula, fleur de sel and olive oil) plus some more traditional fare. A main dish and dessert will run you 32 Swiss francs at lunchtime.
Getting there: Café Papon, 1 rue Henri Fazy, 1204 Geneva
Reservations: +41 22 31 15 428 – cafepapon.ch
Healthiest Rooftop: Ou Bien Encore at Insens
Eat well in every sense of the word: Ou Bien Encore's cuisine is made with organic, seasonal ingredients. Proof that healthy and tasty can go hand in hand. Look out over the rooftops of Geneva in the bright dining room or out on the terrace that runs the length of the restaurant. Relaxing and delicious.
Bonus points: you can take their nutritious dishes and desserts to go.
Getting there: Ou Bien Encore at Insens, 12 rue Ami-Lullin, 1207 Geneva.
Reservations: +41 22545 36 80 – insens.ch
Most Secretive: Le Barocco
Hidden inside the Art and History Museum, this café-restaurant is especially great on nice days when you can dine on the interior terrace. The private location and plentiful orange trees make this delicious lunch break spot complete.
In the kitchen: local and seasonal ingredients, fish from the lake, Swiss beef, and delicious pastries.
Getting there: Le Barocco, Art and History Museum, 2 rue Charles Galland, 1206 Geneva.
Reservations: +41 22 418 26 82
Most Fashionable: L'Adresse
This unique spot is half modern bistro, half clothing boutique. The entrance is atop a narrow red staircase on rue du 31 Décembre. Escape to their rooftop terrace for a break from the bustling city, or dine, read, and shop the latest fashion trends (they sell cutting edge pieces from brands like Isabel Marant, A.P.C., and Acne) in their urban loft-style area.
Cuisine: Mediterranean flavors, homemade desserts, drinks et new healthy creations all the time. Bonus points: plat du jour for 21 Swiss francs, plus take-out.
Getting there: L'Adresse Table & Wear, 32 rue du 31 Décembre, 1207 Geneva.
More info: ladress.ch
Warmest Atmosphere: Le Cottage Café
This cute cottage and its pretty patio are perfectly located in the park behind the Brunswick Monument. Enjoy the shade from the surrounding trees and the sounds of the fountain.
Simple and healthy cuisine inspired by Hippocrates's famous saying: "Let food be thy medicine!"
Must try: their full-size crayfish salad is filling, and simple yet delicious. You can also get organic breakfasts, snacks (try one of their marvelous pastries), and tapas and mezze dinners. Around 25-30 Swiss francs for a main dish and coffee.
Getting there: 7 rue Adhémar-Fabri, (Jardins de Brunswick), 1201 Geneva – Phone: +41 22 731 60 16
More info: cottagecafe.ch
Most Urban Oasis: East West
The East West boutique hotel restaurant is a cozy, classy, and calm refuge in the neighborhood near the train station. In the summertime, have lunch outside in their lush patio oasis, complete with soothing waterfall sounds. Sophisticated and flavorful cuisine, beautiful presentation (asparagus, burrata, bass sashimi, and prime rib from Molard, the local butcher's shop, for instance).
Expect to spend: 32 Swiss francs for a very good lunch special (starter and main dish); choose from several options that change weekly.
Getting there: 6 rue des Pâquis, 1201 Geneva – Phone: +41 22 708 17 17. There are only a few tables, so it's best if you make a reservation.
More info:  eastwesthotel.ch
A World of Its Own: Shima
Shima is a satellite restaurant of the Four Seasons Hotel des Bergues located on Île Rousseau island, an oasis in the middle of town. The small gazebo serves delicious Japanese street food, to share, take away, or enjoy in the shade on their patio: tuna tataki skewers, shrimp and bass ceviche, seaweed salad, tuna, avocado and mango sashimi. (Starters range in price from 8 to 33 Swiss francs)
Getting there: Shima – 1 Île Rousseau, 1204 Geneva. Phone: +41 22 310 8470
Most Reminiscent of a Parisian Brasserie: Chez Max
Chez Max opened up shop at the corner of rue 31 Décembre and rue Nant this May, and Le Colibry couldn't be happier about this new addition to the Eaux-Vives neighborhood. Featuring true bistro-style chairs and little round tables, just like in Paris… Must try: the MAX classics – between their Croque Monsieur that's worthy of its name, their traditional hand-cut steak tartare, their Caesar salad, their burgers, and even their featured bowls… there's something for everyone.
Getting there: 38 rue du 31 Décembre, 1207 Geneva.
More info: max-geneve.ch
Most Artsy: Café des Bains
A classic, tucked in between art galeries and modern art museums in Geneva's most boho-chic neighborhood. Their covered terrace and private patio are both pleasant lunch spots. In the kitchen: revisited bistro-style cuisine with a Moroccan flair, and incredible roast chicken…
Getting there: Café des Bains, 26 rue des Bains, 1205 Geneva.
More info: cafedesbains.com
Terraces with breathtaking panoramic views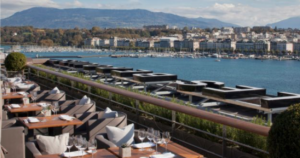 Highest Japanese Restaurant: Izumi
In the summer, take in some of the best views of Geneva's lakefront from this rooftop restaurant. The nearly 360° view is just gorgeous.
Cuisine: modern and sophisticated Peruvian-Japanese fusion cuisine that is both innovative and delicious. Nikkei cuisine marries Peruvian flavors with Japanese techniques, and the result is a real culinary journey!
Must try: lobster and baby spinach salad with truffle oil and yuzu dressing, bass sashimi with miso powder and yuzu… and don't forget their crème brulée cheesecake.
Getting there: Four Seasons Hotel rooftop terrace, 33 Quai des Bergues – 1201 Geneva.
More info: izumi.ch
Most Fleeting: Le Café Perche
This hotel restaurant terrace in the Parc des Eaux-Vives affords a stunning view of Lake Geneva and the surrounding mountains.
Cuisine: single-course meal featuring fresh-caught perch. Three possibilities: perch meunière, fried in extra virgin olive oil, or with Lake Geneva crayfish and Nantua sauce. Great fresh-cut French fries. And for those of us with a sweet tooth? A vacherin glacé (meringue ice cream) with heavy cream from Gruyères, meringues and fresh raspberries. Signature dish: perch fillet, 49 Swiss francs.
Getting there: Café Perche, Restaurant-Hôtel in Parc des Eaux-Vives, 82 quai Gustave Ador, 1207 Geneva.
More info: +41 22 849 75 75. Open from June 3 to September 30, 2019.
Most Gourmet: Le Floris
Le Floris has reinvented itself as a bistro. Take it magical views of the lake and the Jura Mountains from the gorgeous terrace. Chef Claude Legras gave up his Michelin stars, but his food, which showcases seasonal ingredients, is still just as good. Gourmet, tasty, and full of ingredients from local markets.
Expect to spend: 21 Swiss francs for the plat du jour and a side salad, served Tuesday-Friday at lunchtime only, or 26 Swiss francs if you want a glass of wine. Le Colibry thoroughly enjoyed the Provençal-style Lake Geneva perch fillets and the scallop and bass tartare.
Getting there: 287 route d'Hermance 287, 1247 Asnières
More info: lefloris.com
Patios on the water
Most Popular: La Buvette des Bains des Pâquis
This gem, disguised as a retro snack bar, is located directly across the lake from the Jet d'Eau at Les Bains des Pâquis, a cornerstone in Geneva. Their patio is surrounded by water on three sides, so you'll have a great view of the city's waterfront. It's hard to find a more affordable or better tasting daily lunch special or salad anywhere else in the city.
Bonus points: wake up for a sunrise concert and breakfast (at the Les Aubes early morning music festival, from 6:00 a.m. – 7:00 a.m., July 22 to September 1).
Getting there: Bain des Pâquis, 30 quai du Mont-blanc, 1201 Geneva.
More info: bain-des-paquis.ch
Closest to the Water: La Belotte
This restaurant is housed in an old inn, and has been one of the most popular places to relax by the water for many years. If you choose to dine out on the patio, you'll have an incredible view of the Jura Mountains and Geneva to the west.
Cuisine: cuisine based on produce from local markets and fresh perch.
Getting there: La Belotte, 11 chemin des Pêcheurs, 1223 Cologny
More info: +41 22 300 68 88 – labelotte-geneve.ch
Best Boating Stop: Creux de Genthod Restaurant
The Creux-de-Genthod restaurant is the perfect place to stop for lunch if you're out on the water for the day. Whether you're a sailor or just someone looking for a good bite to eat, their lovely terrace with lake and mountain views is a wonderful choice.
Must try: their traditional perch fillets.
Getting there: 29 route du Creux de Genthod, 1294 Genthod
More info: +41 22 774 10 06 – creuxdegenthod.com
Patios where you can get in touch with nature
Coziest: Le Cottage
Take a trip around the lake to the town of Asnières. It's as pretty as a postcard and surrounded by vineyards. While you're there, you have to eat at Le Cottage.
Cottage special: "la Broche" roast chicken every Sunday and a weekday plat du jour for 21 Swiss francs.
Bonus points: homemade French fries, hard enough to find these days that it's worth mentioning.
Getting there: Le Cottage, 38 rue Centrale, 1247 Asnières.
More info: +41 22 751 16 17 – lecottage.ch
Most Foodie Friendly:  L'Auberge de Vandoeuvres
L'Auberge is a true food lover's paradise, tucked into the corner of one of the town squares in the village of Vandoeuvres. Their small patio is quiet and secluded, so you can enjoy your meal in peace. For starters, get the prawn salad, and go for the "tigre qui pleure" (crying tiger) entrée: beef tagliata (marinated sliced steak) served with matchstick fries and green beans.
More info: aubergedevandoeuvres.ch
Getting there: Auberge de Vandœuvres – 2 route de Choulex, Vandœuvres. Phone: +41 22 810 89 89.
Expect to spend: around 75 Swiss francs for an à la carte meal (start, main course, and dessert), 20 Swiss francs for the daily special.
Most "Dolce Vita" in the Countryside: Cheval Blanc Restaurant
This family-style Italian restaurant has been serving up delectable seasonal cuisine since 1972 (their cuttlefish salad is particularly memorable). On the patio, large umbrellas provide shade against the bright country sun.
Getting there: Cheval Blanc Restaurant, 1 route de Meinier, 1253 Vandoeuvres.
More info: +41 22 751 16 17 – chevalblanc.ch
Most Verdant: La Buvette du Théâtre de l'Orangerie
In the heart of the Parc la Grange, this warm and inviting spot is the perfect place for theatre-goers, art-lovers, and garden-wanderers to converge for a refreshment.
From 10:00 a.m. to midnight, you can savor dishes starring fresh fruits and vegetables from local growers who practice sustainable agriculture. Sip organic wines from Domaine de la Devinière in Choulex or La Vignes Blanche in Cologny, or cold-pressed fruit and veggie juices that are bursting with vitamins… Bonus points: Sunday brunch is served from 11:00 a.m. to 3:00 p.m.
Getting there: on the Parc de La Grange hilltop, to the left behind the villa, quai Gustave Ador, 1207 Geneva.
Reservations: Phone: 022 556 76 77 – labuvetteduto.ch
Most Summer-Chic: The Lodge at La Reserve
A chic and trendy terrace lounge, featuring dishes fresh off the spit or grill and an excellent sushi bar.
Le Colibry recommends the tuna avocado sashimi appetizer, and the grilled rack of lamb. Your tastebuds will thank you!
Another patio at La Réserve that you absolutely have to try? Tsé Fung, which serves the best Chinese food in Geneva.
Bonus points: from March to October, La Réserve charters a motoscafo boat to pick diners up from jetties town and drop them back off after their meal. A boat ride that is spectacular at sunset and even more magical at night.
Getting there: The Summer Lodge – La Réserve, 301 route de Lausanne, 1293 Bellevue.
More info: www.lareserve.ch