Auberge de Vandoeuvres — Another Foodie Paradise to Try (or Try Again!)
Recently taken over and renovated by Jean-François Fert and Michèle Reichenbach, you won't regret grabbing a table at Auberge de Vandoeuvres. In the quiet village of Vandoeuvres (a north-eastern municipality in the Canton of Geneva and a quick drive from the city center), tucked into the corner of one of the town squares, the Auberge (which means "inn" in French) has taken on new life and is ready to impress food-lovers from all over the region. Add it to your list of must-try restaurants in and around Geneva.
Cuisine: The Best of a Bistro
The restaurant's new chef, Michel Thiault, likes to put slightly revisited touches on classic cuisine. In particular, Le Colibry recommends the shrimp salad appetizer and the "tigre qui pleure" main dish, beef tagliata (marinated sliced steak) served with matchstick fries and green beans.
Le Colibry's tip: don't overlook the chef's daily favorites. Just thinking about it, I can almost taste the scrumptious peach dessert and calamari salad I had the last time I was there!
Bonus points: the entrée of the day is only 20 Swiss francs.
Ambiance: Warm and Modern
The large dining room is open and bright. As I mentioned, the restaurant's decor is modern and it's clear that the space was recently renovated. Inviting, and not too noisy. If you go on a warm evening, dine out on the small terrace. The Auberge de Vandoeuvres wait staff is very friendly and takes good care of their diners.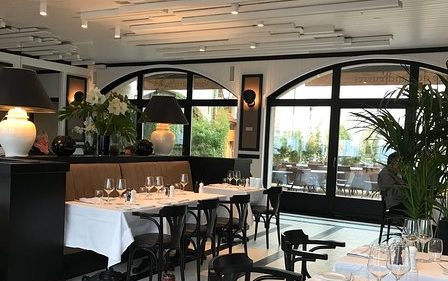 More information: www.aubergedevandoeuvres.ch
Getting there: Auberge de Vandœuvres – 2 Route de Choulex, Vandœuvres. Phone: +41 22 810 89 89
Expect to spend: about 75 Swiss francs for a meal (à la carte, with a starter, entrée, and dessert). 20 Swiss francs for the daily special.
Looking for more of Le Colibry's favorite foodie havens? Check out: Eating Geneva