Atelier des Lumières Paris — An Enchanting and Immersive Experience
An unsuspecting old foundry in Paris's 11th arrondissement seems like the least likely place to find incredible artwork. Yet the Atelier des Lumières Paris ("Light Workshop") multimedia art center housed there is truly a sight to see! The art and digital worlds collide in immersive exhibitions, currently featuring works by Gustav Klimt, Hundertwasser and Poetic_Ai.
Atelier des Lumières Paris: The City's First Digital Art Center
The Atelier des Lumières Paris cultural space and its immersive digital exhibitions make visitors look at art in a whole new light. It brings you into another world, creating a dynamic, cultural and emotional experience. Here, art is accessible, and very much alive.
Paintings come to life as they are projected in an explosion of colors on the walls, floor, and ceiling of the former foundry and move to the music. Music that is perfectly apt for each exhibition, I might add, and that makes each show that much more immersive. A true sensory experience.
Dive Headfirst into Klimt Paintings
Opening at the Atelier des Lumières Paris is a tribute to the major players in Vienna's art scene, most notably Gustav Klimt.
The exhibition features other artists, including Egon Schiele and Friedensreich Hundertwasser, whose work is influenced by Klimt. The projections and soundtrack play on a loop so you can watch it as many times as you like — Le Colibry recommends doing just that, since there's so much to see and you won't catch everything the first time around.
POETIC_AI, another digital installation, uses artificial intelligence technology in the creative process. The shapes, light, and movement are generated by an algorithm that creates a unique and contemplative experience for the viewer.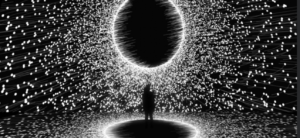 Take your kids along, too. They'll feel like Alice discovering the magic of Wonderland!
Good to know: feel free to sit down (either on the ground or on a bench) to take it all in, and move around to experience the show from different perspectives.
Le Colibry's tip: skip the line and buy your tickets online. Less crowded in the morning.
More information and tickets: www.atelier-lumieres.com April 13-January 6.
Good to know: Culturespaces has another multimedia art site (where the project began) called Les Carrières de Lumières, a former quarry in the quaint town of Les Baux-de-Provence, France. This year's show is Picasso and the Spanish Masters. www.carrieres-lumieres.com
Other Parisian outings: Le Colibry in Paris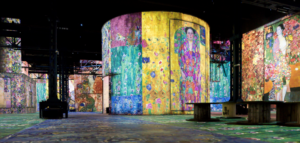 Photo credits: Le Colibry and Culturespaces / E.Spiller