Kobido Japanese Face Massage a Natural Facelift and a radiance booster
Radiance seems to be what all women are after, even more so than wrinkle-free skin. What about you, would you rather have smile lines on your glowing skin, OR be smooth and dull?
For Le Colibry, it's a no-brainer. I'm constantly on the lookout for natural ways to keep my skin glowing and youthful and my eyes bright, without turning to plastic surgery or injections. Le Colibry recently discovered Japanese face massage, and it seems to be one of the most effective natural solutions. Read on to find out how it works.
Roots of Japanese Face Massage, Kobido
Kobido is the oldest and most technically advanced form of Japanese massage.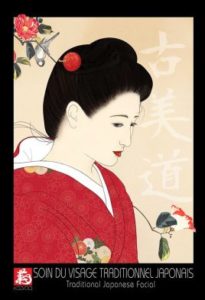 Kobido dates all the way back to the mid 15th century, when it was developed by two Japanese Amna (massage) masters. Today, it is still Japan's most technically advanced facial treatment and produces some of the best results. It is based on 48 ancient techniques. For example, vibrations can be made by quickly shaking your hands and fingers. This technique is generally used to loosen tight muscles and release toxins from the lymphatic system.
Dr. Shogo Mochizuki is the 26th Generation Master of the House and Lineage of Kobido and teaches the ancient art. Since he became an instructor in 1990, Shogo Mochizuki has been sharing his knowledge and expertise of Kobido with people all around the world. Including Sandrine Finch, who studied under Mochizuki and is a certified Kobido therapist. Finch adapted the ancient techniques to be more suitable for a European audience, and she now practices and teaches her method, called Kyodo. Le Colibry tried it out.
Kyodo, the Art of Japanese Massage Comes to Europe
Le Colibry met with Marie-Hélène Anchieri, one of Sandrine Finch's students, who provided insight into this unique Japanese art form.
Kyodo is a blend of the ancient Japanese techniques of Kobido, facial reflexology techniques, and shiatsu.
"Kyodo massage techniques are specially designed to have a regenerating effect on the face. Gentle whipping, "hummingbird" movements (imagine a hummingbird's wings quickly fluttering across your skin), vibrations, and movements that promote drainage stimulate and work your facial muscles to prevent sagging."
Kyodo helps prevent signs of aging by toning your facial muscles, firming your skin, and reducing the tension and tightness that leads to wrinkles and expression lines.
Results
After an hour of neck, face, and head massage, your skin will feel much firmer and your cheeks will be tight and plump, the same effects you'd get from "real" facelift! Your face will have regained some tone and of course, the much sought-after glow.
Bonus points: Kyodo is not a one-size-fits-all massage; your massage therapist will tailor it to your needs and spend more time on the areas that need it the most.
Like all good natural beauty solutions, you'll need to practice this Japanese face massage regularly if you want to reap its long-term benefits. Even if you're not totally convinced that this technique will solve all of your skin worries, at least you'll leave your massage feeling totally relaxed and energized!
Info : The list of Kobido massage practitioners by country and city can be found on the official website: kodido.com
A Parisian in Geneva: Trained by a disciple of the Mochizuki Master, Fiona Windisch is the only one to offer this massage in Geneva. A confidential address that I found by chance after a long search. The place is calm and soothing, and Fiona's hands are expert, precise and delicate. skinbyfiona.com
Good to know: you can easily incorporate these techniques into your daily face care routine.
–      Spread lotion evenly over your face and neck; massage it into your skin from the bottom up using circular motions.
–      Lymphatic drainage for puffy eyes: look up toward the ceiling and tap the bags under your eyes with the pads of your fingers.
–      Work the muscles under your eyes: Look straight ahead and squint as if the sun was in your eyes. Repeat 20 times each morning and night, more often if possible.
You might also be interested in: Face Yoga: Exercises to Try at Home
"No one is young after 40,
but you can be irresistible at any age…"
Coco Chanel