Double Cleansing, the Key to Beautiful Skin at Any Age
Would you believe that taking off your makeup is the best way to keep your skin glowing and healthy? Beauty experts agree that it's a step you should never skip. Taking the time to deep clean your face is very important, as it lets you skin regenerate properly overnight. Le Colibry met with Joëlle Ciocco, an epidermologist, skin specialist, and beauty guru to the stars in Paris. We've also put together some tips on how you can take care of your own skin through cleansing. There's an art to it!
Why is taking off your makeup so important to your skin's regenerative process?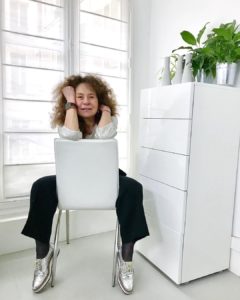 "Because doing so activates our skin's natural anti-aging process." These Joëlle Ciocco words of wisdom should be engraved in the marble countertops of every bathroom.
"Cleansing is a key step in the regenerative process because it keeps your skin's microbiome – all of the microorganisms that make up your skin flora – in balance."
In order for your skin to regenerate as well and as naturally as possible, it needs to be clean. That's why Ciocco recommends double cleansing.
"The first cleansing gets rid of impurities, makeup, and dirt and oil… The second step gives your skin a deep clean and realigns your skin flora. Your skin will be able to protect itself better and regenerate more naturally overnight." Joëlle Ciocco noted that ideally, you should always finish off your cleanse by rinsing with thermal spring water, floral water, or tap water; even micellar water should be rinsed off.
Note: By "double cleansing" we don't mean "scouring." Use a soft touch and products that suit your skin type, condition, your personal history and your environment.
How exactly does it work? Here are some tips to get it right.
Step 1: Eyes
Always start with your eyes, especially if you wear mascara.
The Clarins method I tried during one of their beauty workshops in Geneva is especially gentle and effective. You won't end up with lost eyelashes all over your cotton swab.
Recommended use: be generous with your makeup remover and get the cotton swab nice and damp. Press the swab against your eyelashes until they are completely coated with product, then wipe gently using vertical motions to avoid breaking your lashes. This way, both the tops and underneath sides of your lashes get clean. You can then gently wipe away the rest from the inside of your lid to the outside.
Watch how it's done: 
Step 2: Face
You should follow the instructions on the product you choose.
In general:
If you're using a cream or an oil, warm the makeup remover between your palms before applying it to your entire face using small circular movements; don't forget your neck and décolleté.
Press your hands to your face to create suction, which will help draw out impurities.
Rinse with warm water.
Move on to the second cleanse and massage the product into your skin.
Rinse again.
Finish up your routine with a spritz of floral water or thermal spring water to remove any residue left over from your makeup remover, and pat dry with a tissue.
Watch how it's done: 
Should you use face cream after taking your makeup off?
There is not a hard and fast rule; it all depends on your environment and how your skin feels.
What should your morning cleansing routine look like?

Simply applying micellar water with a cotton swab or floral water eau is enough to remove dirt and oil that has accumulated overnight during regeneration. Finish it off with a spritz of thermal spring water, and pat dry with a tissue.
How should you choose your beauty products?
It depends on your skin type and condition.
Skin type: dry, normal, oily, or a combination. However, your skin condition does change depending on your environment, stress levels, hormonal variations, diet, etc. It's also possible to have dry skin and acne.
Le Colibry's favorite products:
Joëlle Ciocco – Sensitive Cleansing Milk: this product contains neroli oil and pure orange blossom water, to soothe, purify, and help dead skin cells regenerate, and calendula, horesetail, and arnica to reinforce your skin's natural protections. Bonus points: it smells good enough to eat.
Clarins – Pure Melt Cleansing Gel: this product is rich in marula oil and has surprising properties. It turns from gel to oil as you rub it into your face, and then to cream when it comes in contact with water during your rinse.
Bioderma – Sensibio H2O Makeup Removing Micelle Solution: the lightest solution, great for cleansing your skin on days when you don't wear makeup or cleaning off the toxins your skin releases during workouts.
Dr. Hauschka – Cleansing Cream: made from calendula, chamomile, St. John's wort, anthyllis, and almond, this gentle cleansing product is great for purifying your skin.
Le Colibry's favorite spots:
Paris: Joëlle Ciocco Beauty Center, 8 Place de la Madeleine, 75008 Paris. Phone: +33 1 42 60 58 80. joelle-ciocco.com
Geneva:
Clarins Boutique & Spa, 23 Rue de la Terrassière, 1207 Geneva. Phone: +41 22 735 80 74. clarins.ch
Le Cabinet de Beauté, 19 Rue Adrien Lachenal, 1207 Geneva. Phone: +41 22 736 48 48. lecabinetdebeaute.ch
Artwork by: © Marine de Quénetain
Marine de Quénetain-Delahaye lives and works in Paris.
She graduated from ESAG Penninghen in 2009 with a degree in art direction and graphic design. De Quénetain's work, which depicts the daily life of women, fashion, and beauty, is inspired by her mother, a Finnish fashion designer.
See more of her gorgeous prints here:  marinedequenetain.com