What Was Geneva Like in 1850? Take a Virtual Tour and Travel Back in Time at Maison Tavel
The Artanim Foundation and Geneva's Art and History Museum have teamed up to create a unique visual experience at the Maison Tavel. A virtual tour of Geneva… as it was in the year 1850. It's an incredible "back to the future" immersive experience, Geneva style! Be sure to get there before it closes on July 14.
What is it?
In groups of four, you'll travel back in time (you'll even be outfitted in virtual period clothing!) to 1846. From the summit of Mont Salève to the shores of Lake Geneva, and through the narrow streets of the Old Town, you'll experience history first-hand as the star in your own story. Why 1846? That's when Geneva underwent a political and social transformation (like much of Europe), spurred on by the revolution led by James Fazy. You'll meet General Dufour and James Fazy in person, but you won't want to hang around in the city for too long, seeing as it's in the throes of revolution…
The fusion of technology and history makes for a new way to experience museums. Virtual tours like this one make history accessible and bring it to life, helping renew the younger population's interest in cultural institutions.
How does it work?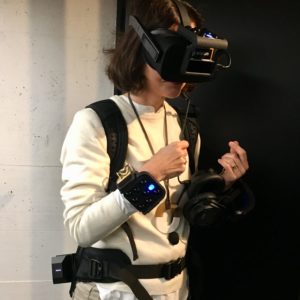 Each visitor gets fitted with virtual reality equipment: motion sensors on your wrists and ankles, a headset, headphones and a small backpack. With this special technology, you'll really feel like you're traveling through history. During your voyage, you'll feel the cobblestone road rumbling under the wheels of your wagon, hear the sounds of the town, and even feel the wind on your face. It's an audiovisual, olfactory, tactile, and physical immersion experience. The whole setup is a little overwhelming at first, but it's a truly fascinating journey.
Before you set off, you'll also choose an avatar dressed in period-specific clothing to be your character during the trip. You can interact with your travel companions and your surroundings, thanks to technology developed by Artanim. Your character in the 3D environment makes the same movements you make in real life.
Behind the scenes of the Geneva virtual tour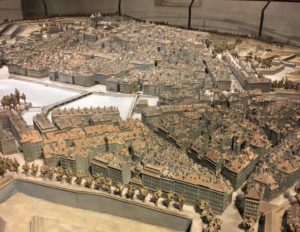 The project began with the Magnin relief model, the largest historical model in Switzerland, which depicts the layout of Geneva before the walls surrounding the city were destroyed in 1850. Architect Auguste Magnin created the model, which is on display in the Maison Tavel attic. Artists scanned it and used the data to develop a 3D digital model of the city. Then, Artanim put their "Real Virtuality" technology to use to create an interactive, multi-person tour.
Did you know? Maison Tavel is the oldest private residence in Geneva.
More info and tickets: www.voyagevirtuel.com
The virtual tour of Geneva lasts between 15 and 17 minutes. Plan for 45 minutes to an hour total, because it takes some time to get into and out of your gear. Participants must be at least 12 years of age. www.mahgeneve.ch
Expect to spend: 10 Swiss francs per person.
Good to know: Adults must sign a waiver when they arrive. Minors not accompanied by an adult must bring a printed waiver signed by their parent or guardian (download it here: FR EN). The exhibition closes July 14, 2019.
Looking for more activities in Geneva? Get inspired by Le Colibry's calendar: What to Do in Geneva This Spring