Follow in Le Colibry's Footsteps in Ibiza: Must-See Views and Off-the-Beaten-Path Spots
During her second trip to Ibiza — a little slice of paradise — Le Colibry strode around the south, made a detour to the north, spent a day in Formentera, ate lots of grilled fish in the dazzling "calas," and took secret paths that led to some beautiful views. This article, written with love just for you, includes her favorite spots and greatest discoveries from the trip.
Lazing About, Getting Around, and Eating Out
North, south, pebble beaches, sand beaches, or inlets… there's something for everyone in Ibiza.
Cala d'Hort (south): very pretty sand and pebble beach with stunning views of the rocky island of Es Vedra. Take the footpath up the cliffs from the beach — be careful, some of it is very steep — at the end of the day and you'll be rewarded with spectacular views of the famous island and coastline. Turquoise waters, guaranteed.
Or, park in the parking lot and take the 1.6-km trail toward Torre des Savinar for more great views (also accessible by car).
Le Colibry's tip: if you plan on walking, take lots of water. There are restaurants on the beach and in the villages, but the rest of the island is mostly uninhabited.
Platja d'es Cavallet (south): a long strip of sand beach on the edge of Ses Salines park. You can go in the water, but the sea is often choppy and not ideal for swimming.
On your way to the beach, you'll drive through salt marshes and get some stunning views of the natural basins and mountains of salt. The island has been producing salt here since the 12th century (and this 100% Ibizan product makes a nice souvenir from your trip).
For lazing about and eating out: do both at El Chiringuito, a casual but hip beach restaurant. A hippie-chic ambiance and fresh, delicious cuisine.
Expect to spend: 50€ for 2 beach chairs and an umbrella – Lunch: starting from 30€ per person
www.elchiringuitoibiza.com
If you walk along the beach toward the tower at the south end of the island (wear good walking shoes because the end of the trail is rocky), you'll get a view of the lighthouse and Formentera, another one of the Balearic Islands. On your way back, you'll see the old town (Eivissa Dalt Vila).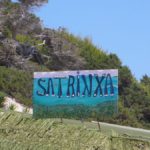 If you keep walking, you'll end up on the other side of the island, at Platja de ses Salines, et where you'll find little coves carved into the rocky cliffs and even some remains of ancient civilizations… this part of the beach is very lively, especially around 3:00-4:00 in the afternoon when DJs in beach clubs start pumping up the sound.
Take a well-deserved break from your hike at Sa Trinxa; have a drink, admire the views, and enjoy a live DJ set.
Cala Bassa Beach Club (southwest): pleasant, boho-chic.
Sandy beach, very clear water, minimal waves, perfect conditions for swimming.
Cozy loungers, trendy beach restaurants and shopping. Reservations only.
Expect to spend: 55€ for two lounge chairs and an umbrella – Lunch starts at 30€ per person.
Even if you're not a huge fan of sangria like Le Colibry is, you have to try the Sangria de Cava made with champagne!
www.cbbcibiza.com
Cala Benirras (north): Can't-miss.
A breathtaking cove; a sort of rocky totem pole sticks out of the waves to let boats know when they are entering the inlet. The turquoise water here is crystal clear, so swimming is a true pleasure. If you'd rather admire the ocean from afar, rent an umbrella and a lounge chair and put your feet up.
For lunch, head to Elements, which is also perfect for a sunset drink. Fresh food, juice bar, boutique.
Expect to spend: starting from 25€ per person. You really have to try their fresh-pressed fruit and vegetable juices, they're delicious!
www.elements-ibiza.com
Le Colibry visited another gorgeous northeastern beach on her previous trip: Aguas Blancas (northeast), read about it here.
Le Colibry's tip: all of these beaches offer lounge chair and umbrella rental; price per day varies. During the peak season, they're in very high demand so get there before noon if you want a spot.
If you're traveling with your family, or for a more budget-friendly trip, buy an umbrella or two before you go and choose sandy beaches to avoid the need for lounge chairs.
Your trip wouldn't be complete without a visit to Santa Gertrudis, a quiet village in the middle of the island.
What to do while you're there: stroll around the church square, do some shopping at Es Cucons, an island-getaway-style boho chic boutique that sells dishes, clothing, jewelry and more, attend an auction at Casi Todo, admire the art at Gallery Origins… and of course eat tapas at one of the town's many outdoor cafés. Le Colibry is especially fond of Bar Costa.
Other equally adorable little villages: Sant Joan (north), Sant Carles de Peralta (northeast), Santa Agnes (northwest).
For shopping addicts: stop by the famous Las Dalias market, hippie ambiance and nice souvenirs. www.lasdalias.es
Ideas for drinks and more at sunset
For a bohemian atmosphere: Sunset Ashram (Cala Comte — south)
www.sunsetashram.com
For a hippie-chic atmosphere: Elements (Cala Benirras — north)
www.elements-ibiza.com
For a trendy atmosphere: Cotton Beach Club patio (Cala Tarida — south)
www.cottonbeachclub.com
For a local atmosphere: Es Boldado (Cala d'Hort — south) +34 626 494 537
Ideas for dining by the water
For a local atmosphere: Ses Boques (south) a small, family-run restaurant that is worth the somewhat perilous drive to get there; it sits atop a steep cliff overlooking the beautiful bay.
Grilled sardines, garlic shrimp, and the fresh catch of the day taste even better with your feet in the sand. Their family-style food is delicious, and the owner makes delicious desserts (her super fluffy tarta limon is a real treat). A great family establishment.
Expect to spend: starting from 30€ per person.
Getting there: Platja Ses Boques – Es Cubells – Phone: +34 606 081 570
For a chic seaside atmosphere and to dine with your feet in the sand: Es Torrent (south)
Tucked into a secret cove, this restaurant serves up delicious fish-based cuisine. It has a relaxed yacht-club ambiance; lots of boats drop anchors in the bay to come enjoy a meal on land when dinnertime rolls around.
Le Colibry recommends the catch of the day, either grilled or salt-crusted.
And it's not just for nighttime — this spot also has chic (pebble) beach vibes during the day, complete with comfy lounge chairs and pretty beach umbrellas.
www.estorrent.net
The same style, but more local vibes: Es Xarcu (south)
Nice terrace with cove views. Plancha-grilled and oven-baked fish and shellfish.
www.esxarcu.com
For a trendy atmosphere: Amante (northeast)
Le Colibry tried this restaurant during her last trip to Ibiza and has fond memories of its food and atmosphere (because it's perched on a cliff overlooking a beautiful cove and the live DJ plays chill music).
www.amanteibiza.com (more about Amante in Le Colibry's previous article about Ibiza: read it here).
If you don't have your sea legs quite yet:
For a trendy Thai atmosphere: Bambuddha (central)
A giant Balinese-style pavilion, a pretty dining room and truly delicious cuisine. Their dishes are as pretty to look at as they are delicious.
Le Colibry recommends the shrimp curry, spare ribs (to die for), spicy beef salad, and miso eggplant.
Expect to spend: starting from 50€ per person.
www.bambuddha.com – Phone: +34 971 197 510
For a patio atmosphere and Italian cuisine: Macao Café in Santa Gertrudis (central)
A pretty terrace under the trees, fresh and classic Italian fare.
Expect to spend: starting from 25€ per person.
Getting there:  8 Carrer Venta des Poble, Santa Gertrudis – Phone: +34 971 197 835
Other delicious restaurants in exquisite natural settings: Giri Café, La Paloma, Aubergine (vegetarian). Read our other article about Ibiza
Where to put down your luggage in Ibiza:
Gatzara Suites (central): a relatively new hotel in the center of a nice little village in Santa Gertrudis, with refined bobo chic décor and a rooftop pool and patio.
Bonus points: the rest of the island is easy to get to when you make this central location your home base.
Can Xuxu (south): Bali vibes in Ibiza. This boutique hotel near the town of San Josep has it all: lush and well-kept green spaces where you can book a massage, a beautiful pool that you'll want to spend a lot of time relaxing by, local and homemade cuisine if you don't feel like going out, and free yoga classes in the morning.
The Balinese-style pavilions in the garden are guaranteed to make your stay a memorable one.
No website. Send them an email () or give them a call (+34 971 801 584) for a brochure.
Other ideas from my previous article about Ibiza:  Agrotourismo Atzaro, Giri Suites, Hotel Hacienda Na Xamena  Read more
If you're traveling with the whole family, you might want to think about renting a beautiful "finca" (ranch-style homes). Some ideas: www.white-ibiza.com
The icing on the cake: Formentera
If you have time: spend a day or two in Formentera. Its white sand and turquoise water will make you feel like you're in the Maldives, when you're actually only an hour and a half from Geneva (two hours from Paris).
Getting there: Ferries and speedboats leave from the port of Ibiza (located at the beginning of the marina) every 30 minutes; round-trip tickets are 43€.
Le Colibry's tip: pick a boat with an open-air deck so that you can admire the views of Ibiza's old town as you leave the island.
Once you're there, Le Colibry recommends:
For lazing about: Platja de Ses Illetes, this extension of Ibiza's Ses Salines Natural Park features a stretch of white sand beach sprinkled with a few restaurants.
For eating out: Beso Beach, a trendy beach club where you can dine under a palm frond roof with your feet in the sand (you have to try their paella) www.besobeach.com
or El Tiburon a more local and casual spot overlooking the ocean www.tiburon-formentera.com
For getting around: most guides will tell you to bike around the island, but Le Colibry doesn't recommend it (she tried, it's usually much too hot; plus, the island is bigger than you think). Your best bet is to rent a scooter.
Final thoughts: In Mid-June, the peak season hasn't quite begun yet, so you won't have to fight for a chaise lounge on the beach or a table at your favorite restaurant. That's part of what makes going at this time of year so nice.
Starting in July, you'll need to make reservations for EVERYTHING well in advance or ask your hotel to take care of it for you.
In short, anything is possible in Ibiza, but the best times to go are in June and September.
More about Ibiza: Le Colibry Gets Some Fresh Air: 3 Days of Sunny Beaches in Ibiza